Astronomy and Our Dark Skies
Do you have an interest in learning more about the stars, planets, and beyond? At Lyme Land Trust we believe the dark sky up there is as much a gift to us as are the forests, the trails within those forests, the rivers and waterways, and everything else that makes Lyme special. To that end, we have decided to offer astronomy information and events as part of our overall mission. 
The astronomy program is spearheaded by Alan Sheiness and Scott Mallory. Watch the webinar It's All About Astronomy – An Introduction to Astronomy and the Start of a Lyme Land Trust Program (above) to learn more about the program and to meet Alan and Scott. 
Alan Sheiness is a ten-year resident of Lyme, CT, and Treasurer of The Lyme Land Trust. Alan is a promoter of dark skies and amateur astrophotographer.
Scott Mallory is a three-year resident of Lyme, CT. Scott has a passion for astronomy, and that passion became an earnest hobby under the dark skies of Lyme.
You may contact both Alan and Scott at: astronomy@lymelandtrust.org
Velology
For exciting astrophotos by local enthusiast Parag Sahasrabudhe, please visit his blog: Velology. You will see he also keeps busy documenting his cycling enthusiasm, too!

Protect Our Dark Skies
Town of Lyme Dark Skies Resolutions
Resolution Supporting IDA-Compliant Lighting at Municipal Facilities
Resolution Supporting Evaluation of IDA-Compliant Lighting for Projects Requesting Land-Use Approval
Our Dark Skies, by Alan Sheiness
How often have you stopped to notice how wonderfully bright and alive the stars are in our peaceful town of Lyme? That dark sky up there is a part of our world. It is as much a gift to us as are the forests, the trails within those forests, the rivers and waterways, and everything else that makes Lyme special. As part of the Sustainable CT effort (sustainablect.org) we seek to inform the public about light pollution and how to arrest its insidious spread across our region. Read more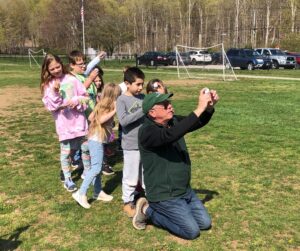 On Wednesday, April 26, 2023, students of the Lyme-Old Lyme Consolidated School attended an after-school Curiosity Shop session hosted by the Lyme Land Trust.  The session was an astronomy workshop
Read More »
Light Pollution Presentation with Alan Sheiness and Misha Semonov-Leiva
Watch this video of a total eclipse by Alan Sheiness