Astronomy and Our Dark Skies
Do you have an interest in learning more about the stars, planets, and beyond? At Lyme Land Trust we believe the dark sky up there is as much a gift to us as are the forests, the trails within those forests, the rivers and waterways, and everything else that makes Lyme special. To that end, we have decided to offer astronomy information and events as part of our overall mission. 
The astronomy program is spearheaded by Alan Sheiness and Scott Mallory. Watch the webinar It's All About Astronomy – An Introduction to Astronomy and the Start of a Lyme Land Trust Program (above) to learn more about the program and to meet Alan and Scott. 
Alan Sheiness is a ten-year resident of Lyme, CT, and Treasurer of The Lyme Land Trust. Alan is a promoter of dark skies and amateur astrophotographer. Contact: alan.sheiness@icloud.com
Scott Mallory is a three-year resident of Lyme, CT. Scott has a passion for astronomy, and that passion became an earnest hobby under the dark skies of Lyme. Contact: scott.mallory@gmail.com.
 
Protect Our Dark Skies
How often have you stopped to notice how wonderfully bright and alive the stars are in our peaceful town of Lyme? That dark sky up there is a part of our world. It is as much a gift to us as are the forests, the trails within those forests, the rivers and waterways, and everything else that makes Lyme special. As part of the Sustainable CT effort (sustainablect.org) we seek to inform the public about light pollution and how to arrest its insidious spread across our region. Read more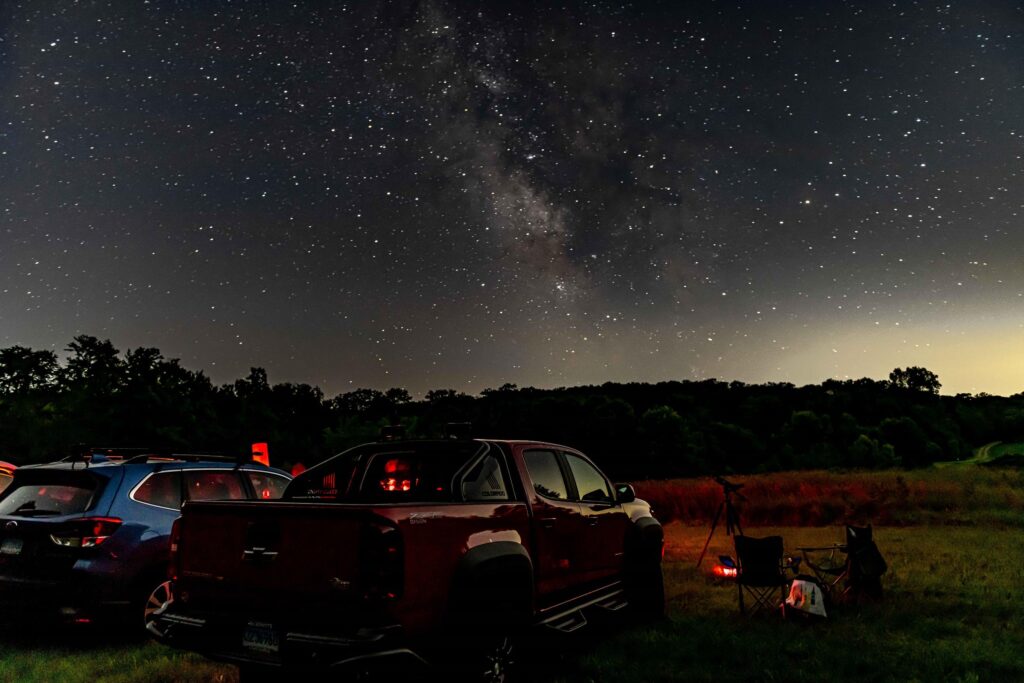 On Friday, September 3, 2021, as the setting sun dipped below the horizon, the quick cooling gave a hint of the damp night to come. Indeed, our equipment was already showing bits of moisture as the wet air let go of its precious cargo. Read more.
On July 30, 2021, the Lyme Land Trust held a public observing session featuring the milky way at its dark sky site. Attendees hailed from Westbrook, Colchester, and Lyme. Observers were able to take advantage of three telescopes, a spotting scope, and binoculars. Read more. 
On Friday, June 11, 2021 we kicked off the maiden observing session at our new site. Mother Nature had other plans, however. The clouds rolled in before sunset and persisted throughout. Scott and Alan set up a few telescopes just in case, and were visited by enthusiast Rick Turnbull. We spent the better part of two hours talking and looking over the scopes, mounts, and lenses.
Together we surveyed our planned observing site and concluded that we will enjoy big, open skies at this site. We have space for those with heavy equipment to drive right up and set up next to their vehicle, with parking space down below for walk-ins without telescopes.
Stay tuned for information about our next session. In general, we will plan on Friday nights. And because weather is so hard to gauge, especially with respect to cloud cover, our plan is to announce an observing date and then "staff the fort" regardless, unless there is active precipitation.
Until next time…!