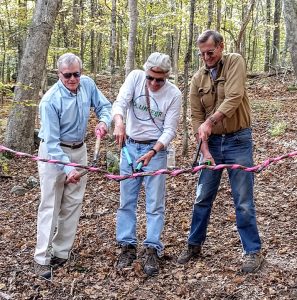 The Lyme Land Trust opened its newest nature preserve, the Brockway-Hawthorne Preserve, at a ceremony held there on Sunday, October 22.  The main parking lot for the 82-acre property is located on Brush Hill Road just south of Hadlyme Four Corners.  Thanks to the efforts of Land Trust Directors and volunteers, lovely hiking trails have been laid throughout the preserve, which is fast becoming one of the most popular with area residents. The trails connect with the existing network at the Selden Creek and Ravine Trail Preserves.
The Lyme Land Trust wishes to express appreciation to the William and Anna Hawthorne family for their conservation mindedness in selling the property to the Land Trust at a bargain price.  Appreciation is extended to the State of Connecticut for providing a substantial portion of the purchase price through its CT DEEP Open Space and Watershed Land Acquisition Grant Program, and to the Community Foundation of Eastern Connecticut for their generous gift toward the acquisition. And a special thank you to the residents of the community who came together to contribute so generously to funding the purchase through the "Hadlyme Challenge" under which an anonymous donor contributed $50,000 to be matched by other donors.
State Representative Devin Carney presented the Lyme Land Trust with an "Official Citation" from the Connecticut General Assembly on the occasion of its 50th Anniversary.  For more on the citation.
The ceremony concluded with the ribbon cutting ceremony at which Tony Irving, Chair of the Land Trust's Preservation Committee; Milt Walters, the Chair of its Philanthropy Committee; and Lyme Selectman, Parker Lord, cut the ribbon with, appropriately, loppers of the kind used in trail building.  Thereafter, Tony Irving and Ralph Lewis, former CT State geologist, led the assembled on a highly informative hike through the Preserve that focused on its geology and the historical uses of the property, as evidenced by its many interesting features. Click here or the new map and brochure.