Registration is open for the Tour de Lyme. The fourth annual Tour de Lyme will be held on Sunday, May 15, 2016 at Ashlawn Farms.  With routes for all levels, it provides a wonderful occasion to pedal with friends and family through the scenic beauty of Lyme and the surrounding countryside.  If you are a mountain biker, this is an opportunity to ride through private lands open only for this event. Everyone– riders, sponsors, supporters, and volunteers–will enjoy a fabulous post ride picnic at Ashlawn Farm with popular food trucks, local vendors and live music.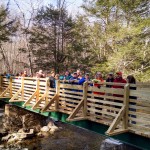 A new footbridge now spans the Eightmile River in Patrell/Chapal Farm Preserve in Lyme and East Haddam. This structure bridges preserved land and is a connecting link in the Goodwin Trail, a cooperative trail that spans four towns: East Haddam, Salem, Lyme and East Lyme. For a slide show of the construction of the bridge, click here. For a map of the Patrell Preserve. photo from East Haddam Land Trust webpage

Please vote for the Lyme Land Trust during the Essex Savings Bank Community Investment Program. Anyone with an account or holdings at the Essex Savings Bank may vote for their favorite non-profit organization to receive financial support.  Ballots must be submitted by February 29.