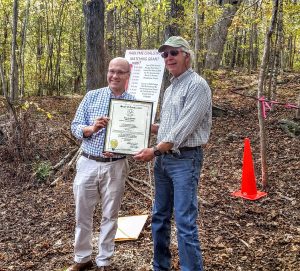 On October 22, 2017, CT State Representative Devin Carney presented the Lyme Land Trust with a Proclamation from the State in commemoration of the Trust's fifty years of service to the community. Rep. Carney presented the certificate to Lyme Land Trust President John Pritchard at the Opening Ceremony of the Brockway-Hawthorne Preserve, the Land Trust's newest preserve.
The citation reads:
General Assembly Official Citation,
introduced by Representative Devin R. Carney and Senator Art Linares.
Be it hereby known to all that:  The Connecticut General Assembly hereby offers its sincerest congratulations to:  the Lyme Land Trust in recognition of it's 50th Anniversary.  For the past 50 years the Lyme Land Trust has been maintaining trails, acquiring and managing open space, promoting scientific studies of natural resources and hosting educational events in the Town of Lyme, and the State of Connecticut has been improved because of the Land Trust's hard work and dedication.  The entire membership extends its very best wishes on this memorable occasion and expresses the hope for continued success.
Given this 22nd day of October 2017 at the State Capitol, Hartford, Connecticut.