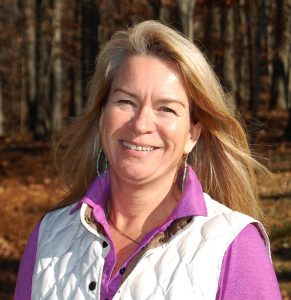 The Lyme Land Trust announces that the Board has appointed Kristina White as its new Executive Director to replace George Moore, who has retired.
The Land Trust is very pleased that George will be succeeded by long time Lyme resident, Kristina White. Kristina has been an actively contributing member of the Land Trust's Board since 2014. She takes over the Executive Director position after serving for the last ten years as the Administrative Director of Musical Masterworks. She has also been active in community affairs and currently serves as the Treasurer of the Lyme Fire Company.
The Land Trust is deeply grateful for George Moore's service and his dedication over the last 14 years. He was elected to the Land Trust Board as a Director in 2003. In 2007, he was elected Board President, and in 2013 the Board appointed him as its first Executive Director. Through his vision and effective management, George has helped transform the Land Trust into one of the most active and successful in the State.
Land Trust President, John Pritchard, stated that "in recognition of his outstanding contributions to the Land Trust, the Board has elected George as its first Director Emeritus, a position newly created to honor his service. We hope that George will remain a member of the Land Trust family."