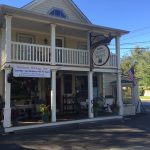 Governor Malloy has declared September 4th, 2016 Hadlyme Heritage Day because of Hadlyme's rich history and its many contributions to the the economic vitality and environmental diversity of the Conn River Valley. Lyme's State Representative Devin Carney read the Governor's proclamation at 12:30 PM on the steps of the Hadlyme Country Market. To celebrate that and to kick off the beginning of the 50th anniversary of the Lyme Land Trust, the Hadlyme Country Market hosted a fun family event from 10am – 4pm which included an effort to help raise funds for the Hadlyme Challenge Grant —An anonymous gift offered by a neighbor to match local residents' donations in order to purchase the Brockway-Hawthorne Property. For more information. For those who were unable to attend the Hadlyme Heritage Day celebration, contributions to the Hadlyme Challenge Grant and guided tours of the proposed Brockway-Hawthorne Wildlife Preserve can be arranged by contacting Humphrey Tyler at hstyler45@yahoo.com  Photo: Hadlyme Country Market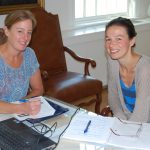 Lyme Land Trust bids farewell to Lisa Niccolai, our Environmental Director, and welcomes her replacement, Sue Cope. Lisa and her husband are moving to New Hampshire. She will be sorely missed. During her years with the Lyme Land Trust, Lisa wore many hats. She spent much of her time in our Stewardship program, working closely with our many volunteers. She devoted many hours organizing our successful application for accreditation by the Land Trust Alliance. A Forester by education, Lisa is also an accomplished writer of grant applications and successfully raised a great deal of money from foundations and the State to help make possible our acquisitions in recent years. Lisa has technology savvy and managed the Tour de Lyme website as well as being very proficient working with GIS technology in producing many of our outstanding maps. She was instrumental in providing knowledgeable ecological opinions on conservation opportunities. Best of luck Lisa, we will miss you.
We are fortunate to have Lisa's replacement already living here in Lyme. Sue Cope received her BA from UConn in Natural Resource & Wildlife Management and a Masters from Indiana's Ball State University in  Environmental Management. To top that off, she earned a degree in Nursing. She traveled internationally to places like Patagonia in South America while studying wildlife management techniques. She is a skilled communicator and is very comfortable using electronic media. Sue is looking forward to being associated with our Land Trust, as are we. She lives in Lyme with her husband and young son.  Welcome Sue.