Lyme Land Trust to Build Stewardship Barn and Adjacent Office and Meeting Space
The Land Trust is pleased to announce that we will be building a stewardship barn and adjacent office and meeting space on property at the Hadlyme Four Corners, generously donated to us by Barbara David. The one-acre property is commercially zoned and is ideally located across the road from our premiere teaching preserve, Banningwood.
Prior to this land donation, the Land Trust had 113 properties under management in Lyme, 42 of which are properties and preserves we own. The stewardship equipment we use to maintain these properties is now scattered amongst the homes and garages of our staff, board members and in some cases, volunteers. The barn will provide much needed centralized storage site for this equipment. Our two full-time employees, Kristina White, our Executive Director, and Jim Arrigoni, our Environmental Director, as well as our part-time accountant and the numerous volunteers who help with stewardship, educational programs and administrative tasks will also be able to utilize the building as a permanent workplace and a dedicated meeting venue.
Recognizing that our stewardship obligations run in perpetuity, our Board has determined that the Land Trust needs a permanent home. We expect that it will also be a magnet for our conservation partners, volunteers, and the conservation-minded of all stripes — as well as being an additional attraction at Hadlyme Four Corners.
We wish to emphasize that we will not be using funds that have been donated to us by our members for operating, land acquisition and educational purposes to build the stewardship barn. Rather, we are now initiating a fundraising campaign to solicit donations specifically dedicated to building the barn.
To make a donation, please click here.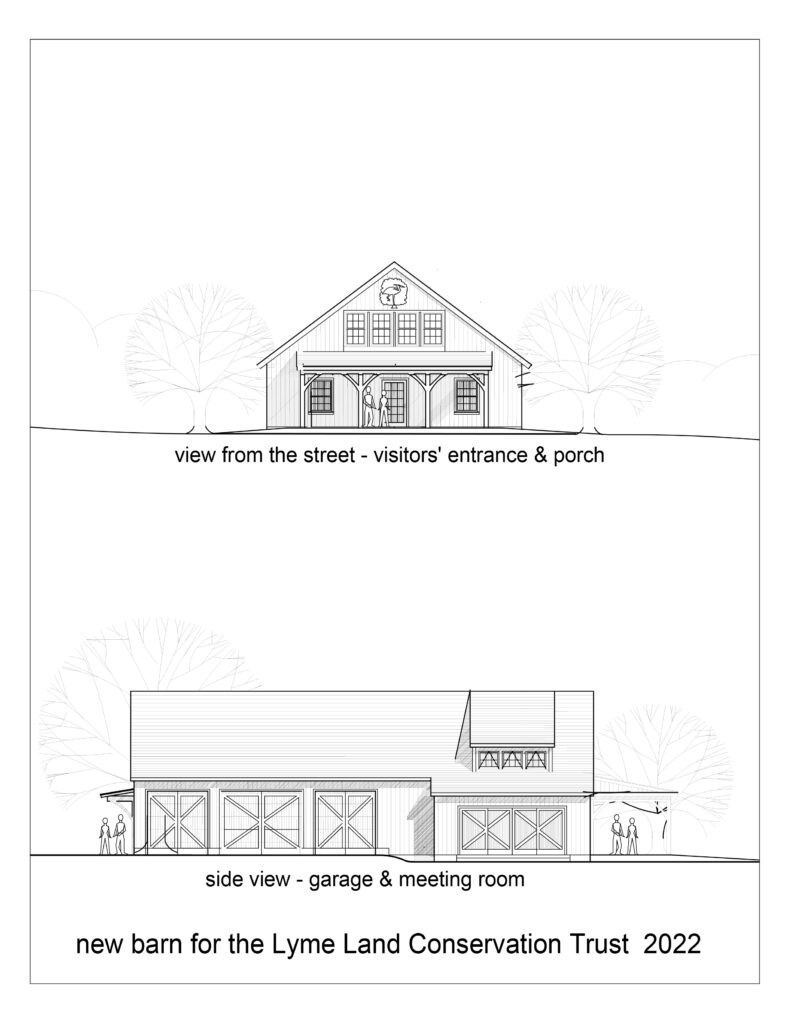 We are pleased that all work has been designed on a pro bono basis by our own Board member, architect Jonathan Butler, with meaningful input from other Board members. David Tiffany has agreed to serve as the general contractor for the building, and we are expecting to begin construction next May or June. We will be pleased to answer any questions – and to receive any comments – you may have about the project. Please direct them to Kristina White.