Date: Sat June 29, 2019
Time: 9:30 am-12:00 pm
Place: Lyme Public Library Community Room, 482 Hamburg Road, Lyme
Contact Email:
gnuttall@audubon.org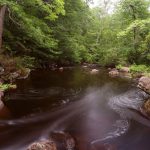 Join Pat Young and Anthony Irving as they teach us about managing property to improve the health of the watersheds that lead into Long Island Sound. As members of the Eightmile River Wild & Scenic Watershed Coordinating Committee, Pat and Anthony are passionate about the Lyme Forest Block, its watershed, and the enormous diversity of habitats that provide support for a wide variety of birds all year round. From the library, we will take a walk to a local stream and do a stream sampling of bugs. This is the sampling that is done for the DEEP which determines the health of a river by identifying what insects are found. Kid friendly.
This free event is part of a Bird Workshop Series offered by the Lyme Forest Block Conservation Project—an initiative launched by Audubon Connecticut, in partnership with the Town of Lyme and the Lyme Land Trust, the Eightmile River Wild and Scenic Coordinating Committee, The Nature Conservancy, and other local land trusts, and municipalities. For a schedule of other events offered by the Lyme Forest Block Conservation Project.
Space is limited. Please fill out this RSVP form if you plan to attend this workshop.