Date: Sat April 21, 2018
Time: 9:30-11:30am
Place: Register to learn parking location on Keeney Road, Nehantic State Forest
Contact Email:
openspace@townlyme.org
Presenter: Lyme Land Trust and Town of Lyme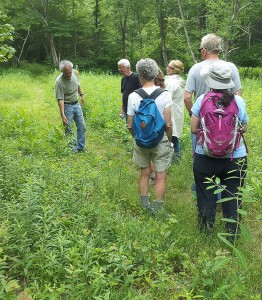 Anthony Irving, Lyme Land Trust board member, Chairman of the Eightmile River Wild and Scenic Committee, and well-known ecologist, will lead a Talk and Walk at the new 125-acre parcel on Keeney Road in Lyme that was acquired by the State of Connecticut in 2017.  The preserved land has been incorporated into the existing 1,925-acre Nehantic State Forest to the south. The property has a unique topography, a product of glacial retreat from about 15,000 years ago. Some of the walk will be off trail. The walk is family friendly and will take about 2 hours.
For more information about the property, go to page 10 of the Summer 2017 newsletter. 
Rain date: Saturday, April 28 at 9:30 am
Register to learn parking location: openspace@townlyme.org