Time: Sunrise to dusk
Place: DIT Honey Hill Preserve, Clark Rd., Lyme CT and DIY Anywhere Activity
Contact Email:
sue.cope@lymelandtrust.org
Visit Honey Hill Preserve on your own for a baby wildlife figurine hunt. Follow the dots on the map to find the small approximately 2-inch figurines. Everyone is welcome. Click here to download the map with creature locations and directions.
The hunt will remain up after the weekend for ongoing family fun. Visit our other two DIY Family walks with magical hunts. Click here for details and to get maps.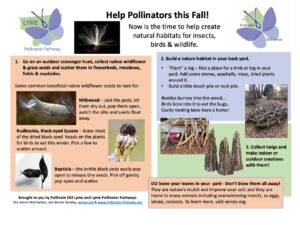 Help Pollinators. Pollinator Pathway Activity for families. Fall is the time to help create natural habitats for insects, birds & wildlife. Click here to download a pdf of the Fall Pollinator Pathway activities flyer.

Lyme Youth Service Bureau UNPLUGGED! LYSB Screen-free Weekend in Lyme/Old Lyme October 23 & 24, 2021. To see what other activities are offered by Lyme/Old Lyme organizations.

Visit LYSB, 59 Lyme Street, Old Lyme to see displays and to get printed hand-outs of activities.

Date: Sat October 23, 2021 thru Sun October 24, 2021