Date: Sun January 14, 2018
Time: 1:00 pm-3:30ish
Place: Hartman Park Goodwin Trailhead Entrance on Gungy Road Lat 41.43608 Lon -72.29009
Contact Email:
openspace@townlyme.org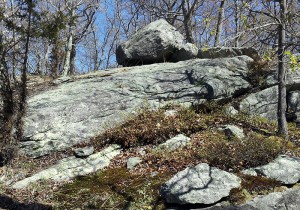 This event is cancelled due to icy trail conditions. It will be rescheduled in the future.
Start the New Year off with a moderately easy 2.6 mile walk in the woods. Everyone is welcome. Don't forget your walking stick. Meet at the trailhead to the Goodwin Trail at Hartman Park Gungy Road. We will car-pool to the Holmes Road Parking lot in East Lyme. We will then hike the portion of the Goodwin Trail from the Holmes Road Parking Lot in Nehantic State Forest through Hartman Park back to Gungy Road, led by Wendolyn Hill, Lyme Land Trust board member and Town of Lyme Open Space Coordinator. We will visit the old CCC camp foundations, pass ancient colonial ruins and pause to appreciate the view from the beloved Bald Nubble on the red trail at Hartman Park. A snack will be provided. Bring water or something to drink.
The Richard H. Goodwin Trail, overseen by the Eightmile River Wild & Scenic Coordinating Committee, is a an extended trail system crossing four towns: East Haddam, Salem, Lyme and East Lyme. In the future, the goal is to connect to other existing trail systems in surrounding towns. Dr. Richard H. Goodwin (1911-2007) was president of the Nature Conservancy from 1956 to 1958 and again from 1964 to 1966. The Nature Conservancy, a nonprofit organization, was started in 1951, and Dr. Goodwin was one of its founders. Since then, it has protected 15 million acres of land in the United States and 102 million acres in 29 other countries.
Inclement weather cancels.
Reservations Appreciated. openspace@townlyme.org.
Directions from Rte 156 in Lyme: Take Rte 156 to Beaver Brook Road. Travel about 2.7 miles on Beaver Brook Road. Turn left onto Gungy Road. Travel about 1.5 miles. Park along the road.