Date: Sat September 17, 2022
Time: 1:30 - 4:00 pm
Place: Hartman Park. Meet at the Main Entrance.
Contact Email:
openspace@townlyme.org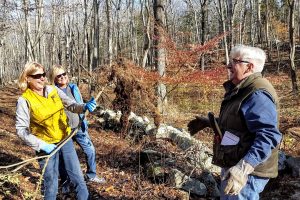 Help us restore a healthy native woodland around the Lee Farm site in Hartman Park. Learn to identify the beneficial native plants we want to keep and the invasive plants we want to remove. Four years ago, the area was overrun with barberry and other invasives. After several years of brush hogging and pulling, we are close to making the area invasive free. We will remove the invasives. Bring along heavy duty gloves and clippers. A root-extracting tool, like a pick ax, will be helpful. Bring a bottle of water. A snack will be provided. The Lee Farm site is about 1/2 mile from the entrance. 
Please register: openspace@townlyme.org
Inclement weather Cancels.
Directions: The Hartman Park Main Entrance entrance is on Gungy Road about 1.5 miles north of the 4-way stop signs at the intersection of Beaverbrook Road, Grassy Hill Road, and Gungy Road.