Date: Sun February 2, 2020
Time: 1:30-3:30ishpm
Place: Brockway-Hawthorne Parking Lot, Brush Hill Road, Lyme
Contact Email:
openspace@townlyme.org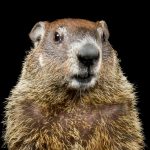 Join us for a walk on Groundhog Day to look for signs that the groundhog has seen his shadow, as well as evidence of other animals in the preserves. We will walk about 2.5 miles in the Brockway-Hawthorne Preserve,  over open abandoned pasture-land bordered by stone walls and mysterious stone structures, where ancient oak trees still stand guard. There are a few moderate hills. Everyone is welcome.
The walk will be led by Wendolyn Hill, Open Space Coordinator of the Town of Lyme and Lyme Land Trust Board member. Meet at the Brockway-Hawthorne Parking Lot on Brush Hill Road in Lyme. The parking area is on the right 1/2 mile south of the Hadlyme Country Store.
Inclement weather cancels. Wear sturdy shoes and be prepared for possible slippery areas. Bring a bottle of water. A snack will be provided.
Registration is appreciated: openspace@townlyme.org