Date: Sun January 19, 2020
Time: 1:00 pm
Place: Selden Creek Preserve, Joshuatown Road, Lyme
Contact Email:
education@lymelandtrust.org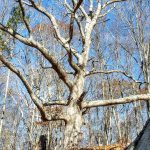 There are no more spaces on this walk. Please contact us if you want to be on the waiting list in case of cancellation.
Please join us at Selden Creek Preserve for an educational walk in the woods. Michael Whalen, conservation biologist, will lead a walk to identify trees and plants in the winter landscape. We will observe the bark and twigs, and apply forest forensics using clues on the ground (leaves and nuts). Michael Whalen is a Deep River Land Trust board member.
Reservations required. Space is limited: education@lymelandtrust.org
Selden Preserve is parking is located on the west side of Joshuatown Road, about 4 miles north of the intersection of Joshuatown Road and Rte. 156.