Date: Sat April 27, 2019
Time: 8:00-10:00am
Place: Hartman Park, Gungy Road, Lyme
Contact Email:
openspace@townlyme.org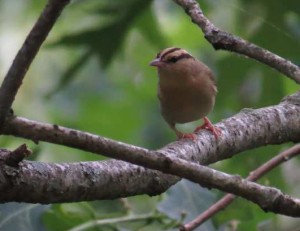 Join us for a bird walk featuring woodland birds in Hartman Park, part of the Lyme Forest Block Important Bird Area. An Audubon expert birder will lead the walk where you can see and hear a diverse selection of bird species, including the Worm-eating Warbler, Wood Thrush and Cerulean Warbler. Even if you have never gone a bird walk before, this will be a great opportunity to learn more about the birds in your area and gain appreciation for their habitat. Don't forget your binoculars!
This free event is part of a Bird Walk Series offered by the Lyme Forest Block Conservation Project—an initiative launched by Audubon Connecticut, in partnership with the Town of Lyme and the Lyme Land Trust, the Eightmile River Wild and Scenic Coordinating Committee, The Nature Conservancy, and other local land trusts, and municipalities. For a schedule of other bird walks and events offered by the Lyme Forest Block Conservation Project.
Please fill out this RSVP form if you plan to attend this or any Lyme Forest Block bird walk. If you have any questions, contact Genevieve Nuttall, Audubon Bird Conservation Programs Associate, at gnuttall@audubon.org.