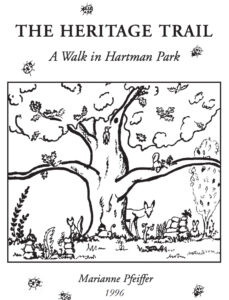 Marianne Pfeiffer, Lyme — Marianne Goetze Pfeiffer, blazer of the original trails in Hartman Park, died at her home in Lyme on Saturday, Aug. 7, 2021.
Marianne is the author of the delightful booklet The Heritage Trail: A Walk in Hartman Park published in 1996, which was based on the archeological and historical observations of Hartman Park by her son, archeologist John Pfeiffer. The booklet is an interpretive trail guide which features the history of the many fascinating old ruins along the Heritage (orange) Trail, as well as interesting observations about nature. The Heritage Trail is one of the most popular hikes in Connecticut, attracting people from all over.
Marianne Pfeiffer's desire to share her love of the natural world is evident in her creative trailblazing at Hartman Park. The many wonderful trails Marianne and her friend Jeanne Thomson blazed there have something for everyone, including the nature loop with the fairy circle, created for children and the young at heart. It is fitting that her grandchildren called her "mother nature".