"I'm thankful for every hour spent volunteering for the Lyme Land Trust, which has enlisted so many remarkable individuals with just the right talents just when they're needed  It's been a privilege and a joy to work with y'all, whether in the woods or in committees."
Melvin Woody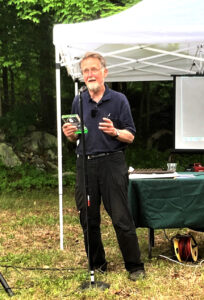 During a ceremony at the Annual Meeting of the Lyme Land Trust on June 18, 2021, Melvin Woody was awarded the 2021 Lyme Land Trust Volunteer of the Year for his half-century of tireless dedication to the protection of the land and waterways we all hold dear. He has volunteered on many regional boards and committees throughout the years. In all his roles, he counsels with insight and encourages collaboration between organizations, as well as being a willing and active hands-on volunteer who isn't afraid to get his hands dirty. According to Kristina White, Executive Director of the Land Trust, "Melvin is clearly a stellar example of what it means to volunteer. He is a great example of what all boards want as a director. He volunteers and participates at our events, he volunteers for our work parties on our preserves, and he shares his knowledge concerning important projects and acquisitions for the land trust."
In June 2021, he retired from the Lyme Land Trust board of directors after serving a full term of thirteen years. He joined the board in 2008 and became the Secretary in 2013. This was his second long-term service as a Land Trust board member. His first term ended in the 1980s. When recalling his time on the board, Melvin stated, "I've kept track of a lot of other land trusts, so I know how lucky we are. But it's not just luck, since it depends on so much cheerful collaboration."
Melvin moved to Lyme in 1977 after 14 years in Old Lyme. He is Professor Emeritus of Philosophy at Connecticut College.
Melvin has served on the Connecticut River Gateway Commission for close to fifty years, serving as Chair for many of those years, currently as Vice Chair. He began on the ground floor with the Committee, which was created through a state law to establish the Gateway Conservation Zone and the Commission to oversee the protection of the "natural and traditional riverway scene." He was involved in planning the borders of the conservation zone and marketing it to the towns along the lower Connecticut River, all eight of which agreed to adopt the commission's zoning standards to minimize the visual impact of development on the river scene.
He steered the Lower Connecticut River Land Trust to its present status under Rivercog as an organization to serve as a regional federation of all the land trusts in the lower Connecticut River Valley.
Melvin also serves on the board of the Eightmile River Wild and Scenic Coordinating Committee. Chair Tony Irving stated, "We have benefitted greatly from Melvin's contributions; his many insightful ideas regarding river matters and his wisdom about Lyme's history as it relates to promoting the watershed's importance."
The impact Melvin has made and continues to make in this area of CT will be felt long into the future. We thank Melvin Woody and we wish to congratulate him for this honor of the Lyme Land Trust Volunteer of the year for 2021!