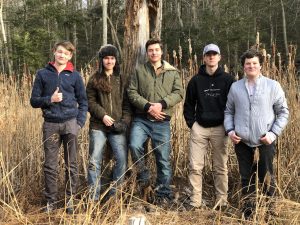 The Tree Collective is a program designed to engage young conservationists ages 14-18 in outdoor fun and education while working to maintain trails in our beautiful town of Lyme, CT. It is sponsored by the Lyme Land Trust, as part of the NaturePlace Education program, under the leadership of environmentalist/artist Regan Stacey, Lyme Land Trust board director.
The group meets every 3rd Sunday early fall through June. Each month there will be a different topic and hike in a selected preserve. There will be guest speakers/guides, help with special reports/research projects, and field trips. Trail work will include maintaining trails, blazing new trails, and other builds. Bring tools for trail work such as heavy duty work gloves and loppers or clippers.
From an article by Jane Sheiber, Tree Collective Member:
We have cleared trees and branches from many of the trails of Lyme's preserves. We re-routed the purple trail at Brockway- Hawthorne around a wetland area, making for a safer and less muddy passage. Additionally, we headed off invasive species and encountered wildlife.
We learned about hibernation through the discovery of a family of shrews and several salamanders (including the marbled salamander) in an old tree stump. We also found artist's conk mushrooms, among others, and worked on identifying trees in the winter, when the branches are bare. Finally, we learned about land-use history, wolf trees, and red cedars.
At our November 2018 meeting we walked the Ravine Trail, and observed ice formations in the mud and cattails in the beaver meadow. Many of the cattails were beginning to disperse their seeds in the wind. Did you know that cattail leaves were used to make rush seats and other woven objects? Most of the plant is even edible! Their rhizomatous root system also provides shelter for waterfowl and other birds, as well as small fish and aquatic creatures that wildlife depend on for food.
We will be donating a kids' picnic table to the Fairy Circle in Hartman Park. We spent our holiday meeting in December 2018 painting and decorating the table with natural imagery. It will be placed in the preserve this spring.
The Connecticut Forest and Park Association was kind of enough to donate their book Forest Trees of Connecticut to the group; each of us received a copy. These books will be very handy in the spring to help us identify trees by type of flowers, seeds, and leaves.
In February, we took a trip to the Peabody Museum to learn more about our natural world.
If you would like to join the Tree Collective, please contact Regan Stacey at reganstacey@gmail.com.