Trailside Benches Dedicated in Memory of Sally James Bill and H. Templeton Brown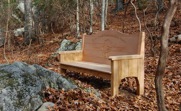 Two people, at different times and in different ways, did much to help the Lyme Land Trust. Each has been honored with a custom memorial bench placed in a Land Trust preserve that had meaning to the person we honor. The benches are constructed of cedar by Erik Block Design-Build of Hadlyme.
Sally James Bill (1929-2010) served on the Board in the late 1970s and early 1980s. In many ways, we honor Sally's family as we honor her. Three generations of family have served as directors – Sally, her son Fritz Gahagan and her grandson Ben Gahagan. Hundreds of acres of family-owned land have been protected with generously donated conservation easements. Sally's bench is on the yellow trail in Pleasant Valley Preserve placed high on a ridge with a beautiful view of Lyme. For more on Sally Bill, see our 2010 Autumn Newsletter.
H. Templeton Brown (1930-2012), served on the Board from 2003-2012, mostly as Chair of the Preservation Committee. He played a critical role in the large land acquisitions of recent years. "Temp" had the ability to reach out and engage people and the patience to work with them to develop the best plan for the preservation of the land they owned and loved. The Lyme Land Trust renamed our acquisition fund the H. Templeton Brown Land Acquisition Fund in his honor. The bench honoring Temp is along the orange trail in the Chestnut Hill Preserve – overlooking a setting Temp especially loved. For more details on Temp Brown see our 2012 Autumn Newsletter.
Wood, Stone, and Water was the theme of an event on April 16, 2012 to honor three former presidents of the Lyme Land Trust: Anthony Irving, president from 1997-2004; Ralph Lewis, president from 2004-2006; and Linda Birely, president from 2006-2007. Read the article: Dinner Honors Past Presidents
Shirley Howard is to the best of our knowledge, the only remaining founder of the Lyme Land Trust. Shirley served as Secretary from 1967 to 1981. Read Shirley's interview here.
Arthur Howe Jr. (1921-2014) was the third President of the Land Trust from 1976-1984. Read Arthur's interview here.
Rufus Barringer (1923-2002) was the fourth President of the Land Trust from 1984-1992. Read an article about Rufus in the 2012 Spring Newsletter.