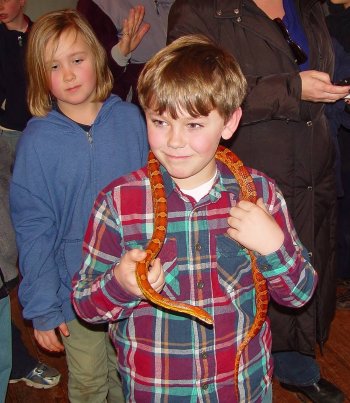 On Sunday, January 29, in front of an overflow crowd at Lyme Public Hall, The Lyme Land Trust hosted a lecture by Linda Krulikowski on "Snakes of New England". Linda a local resident and self-taught herpetologist, explained her subject in meticulous yet easily understood detail, adding relevance by focusing on snakes commonly found in Connecticut backyards.
After a welcoming address by Executive Director George Moore, Linda. Krulikowski began by describing the origins of her fascination with snakes. Chance encounters were recalled in an infectious style that captivated the audience. Next, a slide show depicted our fourteen resident species. To prepare listeners for their own encounters, she identified each snake's distinguishing characteristics – including coloration, markings and habitat. A Q&A session, which offered how-to instructions for eradicating a snake from any structure, concluded the presentation.
Linda however, had one last treat for the youngsters in attendance: a hands-on introduction to a live Florida Corn Snake. (Although not native, this is an easy and docile "beginner" snake well-suited to the purpose.) The children enjoyed a wonderful experience.
As guests departed, overheard were recurring expressions ranging from "so cool" to "very enlightening". Apparently New England's snakes have more than a few admirers.